Beyond just knowing the amount they're being paid, employees want to know the reasoning behind their salaries. Total rewards statements offer a simple but understandable method of conveying all compensation information.
Being able to effectively communicate that an employee's lower salary is compensated by better benefits can be the difference between retaining and losing that employee. Consequently, making sure all of your employees are able to receive clear compensation information at all times is vital to maintaining a motivated and satisfied workforce.
To learn how to communicate total compensation to your employees, keep reading below!
Develop a Concrete Compensation Strategy
When you buy a piece of furniture, it's easier to construct using a written set of instructions than it is to build without a solid plan. This same idea can be applied to communicating compensation to employees.
By providing HR managers and other similar members of your team with an explicit compensation strategy, you can help them navigate hiring situations more quickly and more effectively. They don't have to rely on their own personal knowledge, as they can simply reference the document to know how to proceed.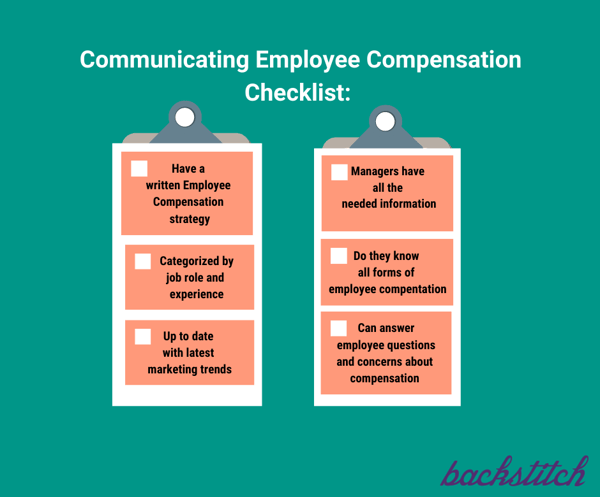 A compensation guide should not only be categorized by job role, but also by experience level within specific job roles. For example, it should indicate what someone with five years of experience should be paid compared to eight years for the same role.
Of course, you want to make sure that your compensation strategy stays up-to-date with current market trends, which is why you should also regularly review it. Changes should also be normalized across the organization.
Provide Your Managers With the Knowledge and Power They Need
Of all the people on your team, you want to take extra care to ensure your managers are educated about how to communicate compensation to employees.
In many cases, employees turn to their team leads with their compensation-related questions before anyone else. This is why it's so important to empower your managers to be able to handle these types of situations.
Specifically, all managers should be able to explain to their team members why they're being paid at what compensation level. This includes benefits and perks within the total compensation package. Beyond the base salary, team leads should also be knowledgeable about other forms of compensation within your company. For example, your company may not pay the most in salaries compared to other competitors, but it may make up for these lower salaries with flexible PTO or more generous health insurance and retirement plans.
Educate your managers about total rewards and ensure they're able to confidently talk about them with their team members. Ideally, you should be able to show new hires a complete total rewards statement — focusing not just on salary, but on other kinds of compensation they're receiving, like bonuses, stock shares, benefits, and more. Digital, interactive statements provide an effective channel to inform your employees.
Context is Key
Compensation is often more than just a salary — something often needs to be explained to employees. Explaining what your total compensation package consists of can help them make more sense of their pay scale. They will spare any feelings of resentment and even deter them from leaving your company in search of a better-paying position.
If you're still unsure about how to communicate total compensation to your employees, learn more about our total rewards software.