Employees have come to expect more than just a base salary. Consequently, by only using employee salaries to retain and recruit employees, you risk losing said employees to competitors that offer total rewards programs.
A total rewards program consists of employee rewards belonging to any of the following categories: compensation, benefits, development, and work environment. Note that while compensation is certainly a part of a total rewards program, it's not the only part.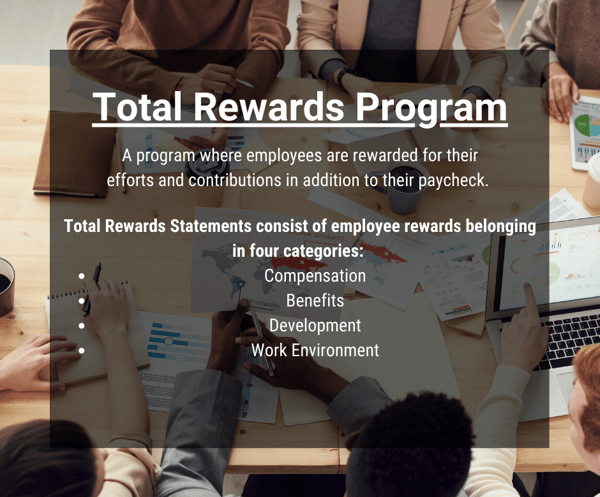 While rewards change from company to company, you'll often find these other categories to include rewards like:
Stock options
Health insurance
Mental health coverage
Dental and vision benefits
Flexible work hours
Retirement contributions
Life insurance
Paid time off
The Importance of Communicating Total Rewards
Employees are often reminded of their salary thanks to monthly pay stubs. However, in most cases, they're exposed far less frequently to the offerings contained within their company's total rewards program. This is because, unlike their salary, there's no pay stub to remind them of the benefits they're entitled to, let alone the monetary value of those perks.
As a result, employees can begin to think that they're being compensated less than they actually are. By using only their salaries as a reference, employees can point to any salary research tool, and believe they are compensated below a fair amount.
However, with the combined value of their company's total rewards program, these employees may in fact be being compensated more than the market average — their company's communication just doesn't make this clear. Transparency of these rewards is key to making sure employees fully understand what they are receiving from you.
As an employer, not clearly explaining your total rewards program can result in otherwise-avoidable employee loss, and top-tier talent looking elsewhere for employment. Transparency is key to making sure employees are reminded of their value to the company.
Take advantage of Total Rewards Statements
The easiest way to spread the word about your compensation and benefits offerings is with total rewards statements. Beyond just your employees' monthly payment amount, these statements should include all of the perks they benefit from as well.
You can send these statements via email, instant message, company platform, or via any other means you think would be effective in making sure your employees actually see it.
Beyond just listing what rewards your employees benefit from, also include in your statements the monetary value of those rewards. This makes the compensation value of your total rewards program easier to understand from an employee perspective. For example, if you cover mental health services in your program, you might include a line that reads "Mental Health Services = $300", with $300 being a month's worth of your employee's total mental health service reward ($3,600 being the total annual amount).
Implement a Total Rewards Program
The bottom line is that it's up to you as the employer to make sure that your employees completely understand the scope of their compensation. By only reminding them of their salaries on a monthly basis through pay stubs, you risk them not realizing the other ways in which they're being compensated — namely, your total rewards program in its entirety.
As a result, there's a higher chance that employees look elsewhere for employment and high-quality candidates consider applying for other companies. To make sure this doesn't happen, communicate your total rewards program as clearly as possible to your employees.
If you need help, or just want to know how to improve communication within your company as a whole, schedule a demo with the communication experts at backstitch today.