Making a first impression with your employee app means everything. Statistics show that around 48% of users make snap judgments on a brand's overall credibility based on a bad app experience. With the employer branding becoming more important than before, companies should also be mindful of their employee experience. You get just one chance to establish trust with users so that they feel there's a purpose behind using it for the short and long term.
Creating a positive impression includes developing an eye catching design and a seamless browsing experience so that users feel comfortable every time they visit the app. However, a good name for an employee app can similarly garner the kind of trust and interest you seek. The name is the first thing that app users will see, after all. Eventually, it can become ingrained into your standard internal lexicon.
Find a name that's catchy and matches the selling point of your internal app. It will add consistency to your internal communications and boost the employee experience.
Finding a Name That's Catchy
Admittedly, it's becoming harder to find a unique app name as the app market becomes more concentrated. There are over 150 million .com domains registered. It's crucial to brainstorm several ideas before getting deep into the app development process. This way, you avoid potentially mirroring the name and concept of another app.
One thing you can do is develop an app name that plays on your company name or plays on a word related to the field you're working in. While you can't get the exact word you want because it's taken, using an app name that puts a twist on your company name or something company related makes it easier for employees to find your app and be more eager to communicate with it.
Ensure the Name Reflects Your Employee App's Core Features
The name should also be reflective of what the company does. Because many people judge apps based on a first impression, they tend to skip the description and go straight to the app. The app name should reflect your key organizational features or one of your company's main functions.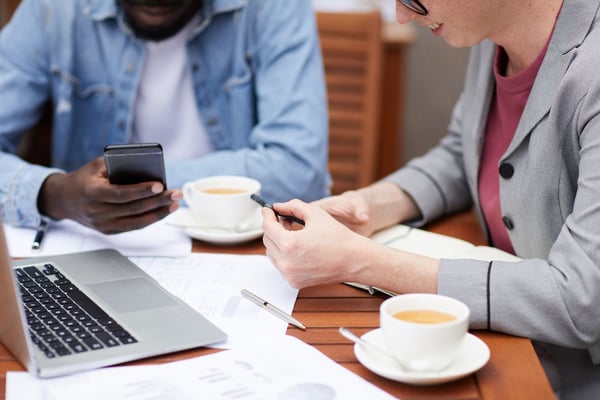 Is this a portal for documents? Do employees log on for peer to peer instant messaging? Can they see their benefits or total compensation information? Or, is this an all in one solution with every one of those features? A name should easily convey just what it's offering to your employees.
The name doesn't have to be too clever as sometimes it can be complicated, so coming up with a name that might be unique but it is hard to remember. It should come across as self-explanatory for employees so that they know exactly what they're supposed to do on the app once they open it up.
Make the Name Searchable
Considering that nearly two-thirds of smartphone users find apps through an app store, you want your app name to be specific and easy to search for your staff. Yet, it must also be unique enough to prevent others from accidentally coming across it. If your organization is not listing the app publicly, this becomes less than an issue. In that case, make sure it's easy for users to find on their own personal devices.
A catchy name can aid the adoption of your employee app. Make sure that it's descriptive, but also easy to find. A great name will also make its way into your company's everyday speech. This is an opportunity to bridge your internal communication with your company culture.