It's important to be savvy and straightforward when communicating with internal emails. After all, your employees are constantly bombarded with tasks and simply don't have the time to go through countless emails every day. While 65% open an email, only 10% actually engage with it. Without improving the quality of your communications, merely creating a company email is a fruitless endeavor.
Two ways you can consider sending your internal emails are the simple way through plain text or by using HTML. One isn't inherently better than the other, and they can be combined to optimize internal email marketing campaigns. Both methods have their benefits and drawbacks when creating internal emails that improve communication within the workplace.
How Deliverable are These Methods?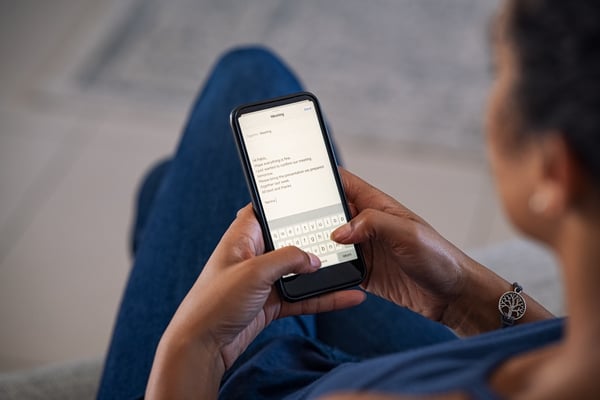 The debate surrounding HTML versus simple email design has always centered around email deliverability. While HTML can provide more detail, its deliverability won't be affected negatively as long as two things are followed when sending one out. First, make sure that the HTML is properly coded. Second, also include a plain text version of the email.
Should there be broken tags in the HTML, users and the email provider will render the HTML email as spam. Broken tags will not only hurt deliverability for the email you're sending, it will affect any future emails from that address.
Several email marketing tools will let you create a plain text version of the HTML email within their respective email editors. Without that plain text version, some email providers will deem your internal email to be suspicious, preventing them from reaching your employees in the timeliest fashion possible, if at all.
You Don't Have to Know Code to Create an HTML Email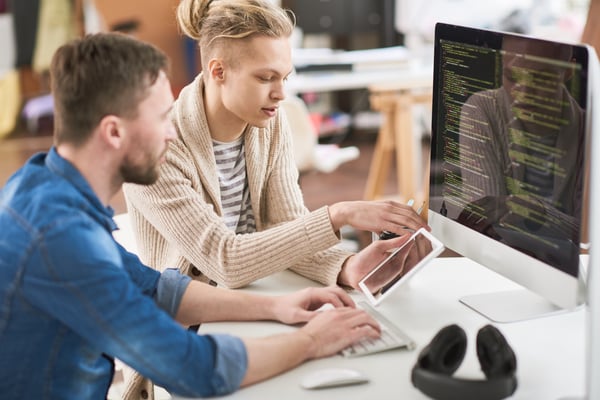 One of the key things to note when creating an HTML email is that you don't necessarily have to be a coding whiz to do so. Many tools that create and send email typically offer formatted HTML templates that allow you to successfully design emails without needing to access the code on the back-end. Once you make changes within the email editor, the changes are automatically coded into the finished product.
Drafting an employee newsletter? Download our internal newsletter checklist today
A good internal communications tool can take pressure off HR departments if there aren't any email designers on staff to take on the task. Many software solutions also come with professional looking templates that add the kind of design and tone necessary when sending internal emails. The best ones even have a built in content library full of stock images and videos.
If you prefer to create an HTML email from scratch and want to control your email codes, various tools let you directly import HTML files that can be used as custom templates for sending internal emails. However, this method does require a developer on staff who will have pertinent knowledge of HTML and coding.
Pros and Cons of a Basic Email
Simple emails are messages that don't contain flair or a lot of eye-catching aesthetics, including special design elements, colors, and fonts. Unlike HTML emails, neither videos nor links are embedded. They are strictly text-based and have long been the standard for various types of emails, including for internal communications.
One of the biggest pros of basic emails is that they are perfect for one on one communications. They are a quick solution for simple usage like updates and sale letters, among other methods of correspondence. They are also more personalized than HTML emails and provide important information without all of the fluff. One other benefit of basic emails is that they don't take any time to load. Without all the attachments and designs, these emails have little to no buffering time.
Simple emails are also more accessible for staff who are battling disabilities. They can be read aloud or translated with ease to staff without any images or formatting changes disrupting text. The messages being translated are clear and easy to understand.
There are situations where a basic email may not work well. Because they lack aesthetic appeal, simple emails are easy to gloss over. The copy is the entire selling point of the internal email. So, if the email isn't opened, then the entire message is lost on employees, and they essentially are a waste of time.
Additionally, simple emails have limited analytics. There are aspects of simple internal emails that you can track, such as delivery rate and bounce rate. But, unlike HTML emails that can be tracked through codes that monitor images and click through rates, plain text emails don't have tracking elements that allow open rates to be monitored.
Pros and Cons of an HTML Email
Because HTML emails are much more visual than their simpler counterparts, they offer you more design control as you can tailor each design feature to your company's identity so that it resonates with your employees. Furthermore, HTML emails offer more utility, with images, emails and links each serving different purposes that you can use to your advantage to engage employees in different ways.
HTML emails draw attention because they add variety to pages, improving open rates and immediately catching the eye whenever they're being sent. And, they are trackable thanks to the coding that is used when developing them.
Though HTML emails are more visually enticing and convenient, they also are considered to be less trustworthy. Readers are savvier now than they used to be, especially regarding malware. Employees who open the email may suspect that the link and attachments embedded in it are malicious and could spread viruses. If the IT department conducts safety demonstrations, then your workers may think twice about opening emails.
Additionally, there's a chance that the HTML email goes straight to spam when it's sent. Various email providers have strict qualifying methods that decide which emails will go straight to inboxes and which ones will be marked as spam. Because they have several varied features, there's a chance that internal HTML emails won't reach their intended recipients.
Whether you opt for either or both, it's important that you keep changing your approaches with sending your internal emails so that employees are consistently engaged.