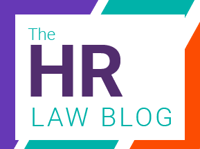 Welcome to the backstitch HR law blog, a series where we provide the latest updates on upcoming and recently in-effect legislation. Our blog series will provide short snippets of State, Federal, and Global changes in HR and employment law, so your organization can continue to stay up to date in the legal world.
---
Federal
On June 15, 2020, the Supreme Court ruled that the Federal Anti-Bias Law shields workers from discrimination based on sexual orientation and gender identity. This case is recognized as one of the most anticipated employment decisions of the year, as it regards Title VII of the Civil Rights Act of 1964. Title VII prohibits employers from discriminating employees based on color, national origin, religion, and sex. With the new court rulings, Title VII also protects employees' gender identity, sexual orientation and membership within the LGBTQ+ community. It is important to note that employers with less than 15 employees will continue to be governed under applicable state and local anti-discrimination laws. Additionally, gig workers who are classified as independent contractors, are generally not protected under anti-discrimination laws.
The Federal Government issued an expansion version of the Proclamation 10014, titled "Suspension of Entry of Immigrants Who Present a Risk to the United States Labor Market During the Economic Recovery Following the 2019 Novel Coronavirus Outbreak." The Proclamation suspends workers through the H-1B, H-2B, J and L nonimmigrant visa programs from June 24th through December 31st. Organizations must be aware that they are unable to hire any employees that require a new sponsorship.
Across the United States, governors and health officials have implemented precautionary measures to help slow the spread of COVID-19. The Center for Disease Control and Prevention (CDC) recommended that everyone wear a cloth face-covering in public settings where social distancing measures are difficult to abide. The Occupational Safety and Health Administration (OSHA) also recommends employees to wear masks to prevent the spread of the novel Coronavirus. As businesses begin to return to offices across the nation, each state has the jurisdiction to decide whether employees are required to wear masks at their place of employment. As of June 17, 2020, each state determined their guidelines on mandating masks in the workplace. View the full list here. It is important to note that these guidelines are subject to change at any point.
California
On June 18, 2020, Governor Gavin Newsom and the California Department of Public Health (CDPH) issued an order requiring all Californians to wear masks or some form of face covering in "high risk" situations. The state of California decided to implement this policy due to the rising COVID-19 cases in the state during their "Resilience Roadmap" reopening plan. High risk situations include but are not limited to riding or driving public transportation, workplaces, interacting with those who are not members of the same household, and more. It is important to note that the guidelines do not supersede additional guidelines imposed by local counties or municipalities. Additionally, these guidelines are subject to change at any point.
New York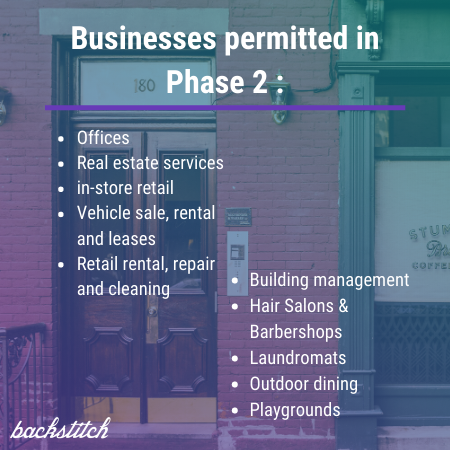 Mayor Bill de Blasio of New York City announced that New York City will enter phase 2 of their "NY Forward" reopening plan on Monday June 22, 2020. Though many other regions across the state are already in Phase 3 of the plan, New York City will join the Phase 2 regions that include Mid-Hudson and the Long Island region. Businesses that are permitted to reopen in Phase 2 include offices, real estate services; in-store retail establishments; vehicle sales, leases and rentals; retail rental, repair, and cleaning--including but not limited to electronics repair, equipment rental, and laundromats; commercial building management; and hair salons and barber shops. Additionally, outdoor dining at restaurants and playgrounds are now permitted under Phase 2. Office as well as retail employers must prepare to keep their employees safe during this transition.
---
Make sure your company will be compliant with these new updates to avoid costly penalties and lost productivity. Follow this series to ensure your company is compliant with the many employment law changes happening in the future.