In 2020, it is estimated that 37 percent of the workforce consists of minorities, which is quite a significant growth from the 18 percent that it was in 1980. However, this is not true for every industry, with the legal and sales industries trailing the pack as some of the least diverse industries in the country.
A diverse workforce creates huge, positive rippling effects. Of course, the value of diversity overall is much grander than any statistic. However, above-average rates of diversity do tend to have revenue that is 19 percent higher.
Above-average rates of diversity do tend to have revenue that is 19 percent higher.
It is crucial that every business is doing its part to make sure that their workforce is as diverse as possible. No matter how diverse your company happens to be, it can always be better. Because of this, we've included three hiring strategies to help you prioritize a diverse workforce.
Advertise on a Variety of Platforms
It is quickly becoming the norm for companies to publish their job openings on their social media channels or websites. While these are great tools and should definitely be utilized, it is important that it is not the only place that you publish your job advertisement. By limiting yourself to these platforms, you automatically eliminate a lot of employees in older generations.
People in Gen X or Boomer generations still often use traditional channels, like job boards or newspaper classifieds, to discover job opportunities. Therefore, to gain a diverse group of applicants, make sure to use a variety of platforms to promote your job posting. You also want to ensure that you use a variety of communication platforms outside of job postings to create an age-inclusive workplace.
Use Neutral Language in Job Descriptions
The words that you use within a job posting are almost as important as where you post the advertisement. Be cautious not to use language that could be considered biased toward a specific gender, age, or ethnicity. For example, words like "ninja" or "care" are things that have an unconscious bias to them, which can affect the type of people that apply to a job posting. Many employers may overlook or not understand the bias they are emitting, so it's important to have many eyes review the posting before it is actually published.
Increase the Diversity of Your Interview Panel
You can't expect your workplace to vastly increase in diversity if you are using a very homogenous interview panel. By including a mix of employees as part of the interview panel, you will be able to bring a wide variety of viewpoints and opinions to the table, which makes it far more likely that you will hire a diverse team.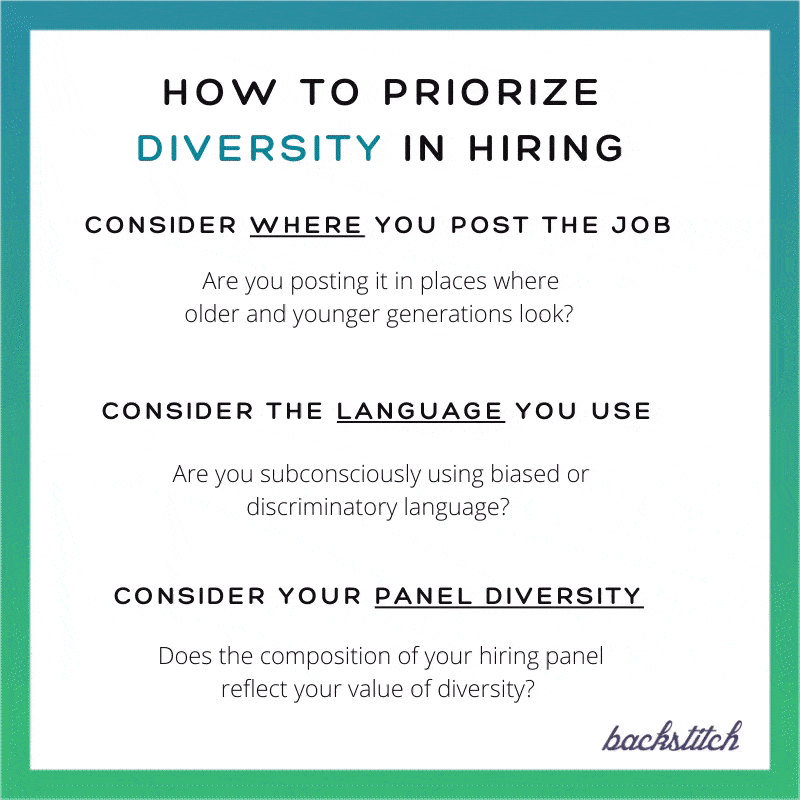 By following these tips, you should be able to start hiring for diversity in the workplace much more effectively. To get help improving your hiring or workplace communication processes in other ways, make sure to contact our team today.