Want cohesive branding when publishing Posts, even though there may be multiple content creators utilizing backstitch Studio? Our "Send From" feature is perfect for you!
Download a PDF version here - Define "Send From" Default Settings
Step #1: Locating the Send From Feature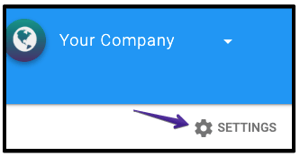 In backstitch Studio,

select Contact Manager

from the dropdown menu on the left handside.

In the left corner, select [Settings].
Step #2: Set the Default 'Send From' for Emails
If you have not authorized the channels you utilize, do this before proceeding. To do this, click the [Authorize] button and fill out the corresponding information.
If you do not utilize Outlook or Gmail platforms for email, select [Authorize] the backstitch "Email" option.
The "Send From Email" and "Send From Name" are best utilized as a generic username that represents your company. Keep in mind, this only shows when Publishing to Email.
Pro Tip: We suggest utilizing "yourcompany_Communications"@studio.backstitch.io - the "Reply to Email" should be an email that is checked regularly.
Step #3: Set the Default 'Send From' for Publishing Posts
Utilize the "Send From" under Devices as a display name for publishing Posts to Devices from Studio. Example: YourCompany Communications.
This shows as the display name in the bottom right corner of your Published Posts!
2. Select the [Browse] button to choose an image as your Avatar. It shows to the right of your author name on the published Post.