If you are looking for new ways to liven up your Posts, try using Canva!
Canva is a helpful tool you can use to quickly design new images for use within backstitch Reader. For instance, you can easily duplicate and replace photos for new backstitch Topics. Or you can place brand elements including your logo, patterns, color scheme, or any company photos into a designated Canva folder.
For more information on how to use Canva visit their help center here!
---
🎨 Add Your Own Branding
In [All your folders] you may drag and drop any logo files or brand graphics into a new folder.

OR you could drop your assets into the [Uploads] tabs in your design editor.

To add your brand colors, go to [Brand Kit] and add the hex codes in the "Brand Colors" section.
Pro Tip: Before starting your designs, upload your logo and brand colors to add easy customization!
🌃 Create Card Images
Click on [Create a design] and then create a custom size.

Recommended Card Size for use in backstitch: 1250 px X 490 px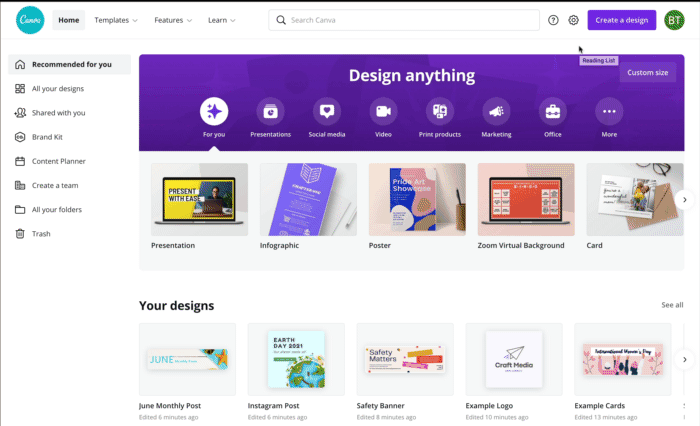 🌄 Create Banner Images
Recommended Banner Size for use in backstitch: 1000 px X 225 px
💡 Get Creative
Canva offers many customizable templates. Search for an idea and click on the template you like the most.

You can also look through the photo library and replace the photo on the template by dragging it onto the original photo.
Pro Tip: Make multiple designs in one!
Above the canvas, there is a [Duplicate Page] icon. Click on this icon to create a duplicate. This allows you to create several options or a group of consistently themed cards. Edit the text and images to make multiple options of the same design! The designs save to your account automatically.

🎥 Play with Gifs
Incorporate gifs into your studio Posts! Canva offers many options to insert fun motion into your designs.
---
✅ Insert Designs into Studio
After you make your beautiful designs in Canva, download the image in Canva as a jpg, png or gif file. Then upload your design right into your Studio Post.