Digital Total Rewards Statements (TRS) can provide a personalized experience for all employees. Providing this tool for total compensation can increase employee engagement, help with recruitment, and improve retention.
---
The TRS feature is an effective way to communicate your total compensation package. With personalized data for each employee, they get a better understanding of the entire package your company offers to them. Our software platform can calculate the data for each person into a single true earnings value.
So how does the TRS work?
Essentially, you combine all of the great things you offer your employees and compile it into one package. This way the employee sees how much you are spending on them, what they are currently taking full advantage of, and what they have potential to grow into even more.
You can use it for many different cases by customizing the TRS to fit your needs!
Overview
Utilize the TRS to showcase individualized employee's total compensation, including salary, overtime, bonuses, health benefits, talent development, retirement, voluntary benefits and more. Provide an all-in-one package to drive employee retention and show the value your company truly offers. Monetize each item into a single value. This can go a long way by making employees realize what value you are providing.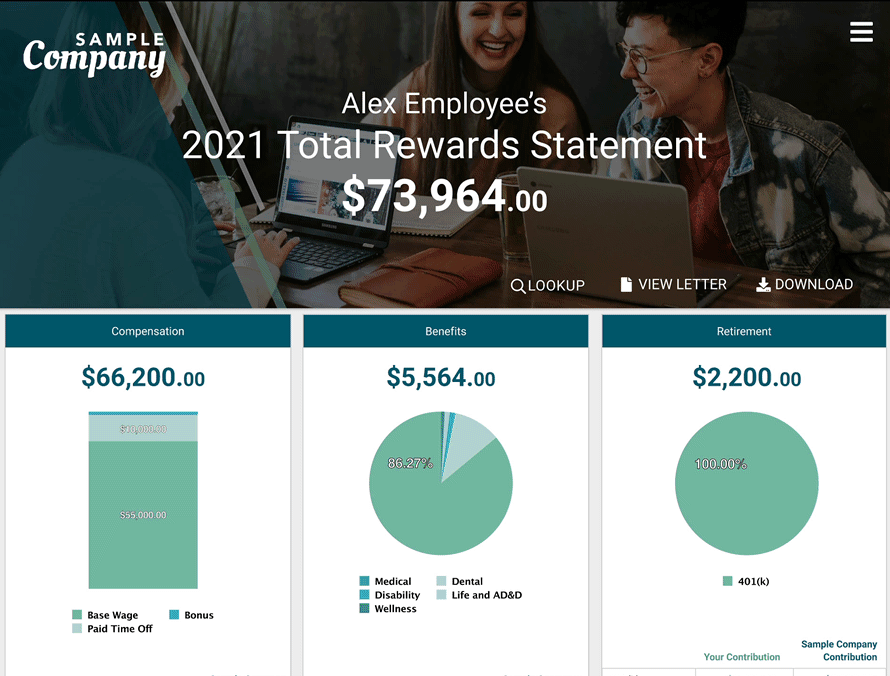 Recruitment
Easily setup your TRS to be able to utilize it for recruitment purposes! Stand out above all the other companies at job fairs, on recruitment sites and more. This is the perfect way to show future employees exactly what they could make in a job they're interested in. If you have awesome packages and benefits that appeal to future employees, this is a way to showcase to them the value.
You can set up the TRS to feature different levels of jobs, so your HR team has an easy way to access and show to future employees.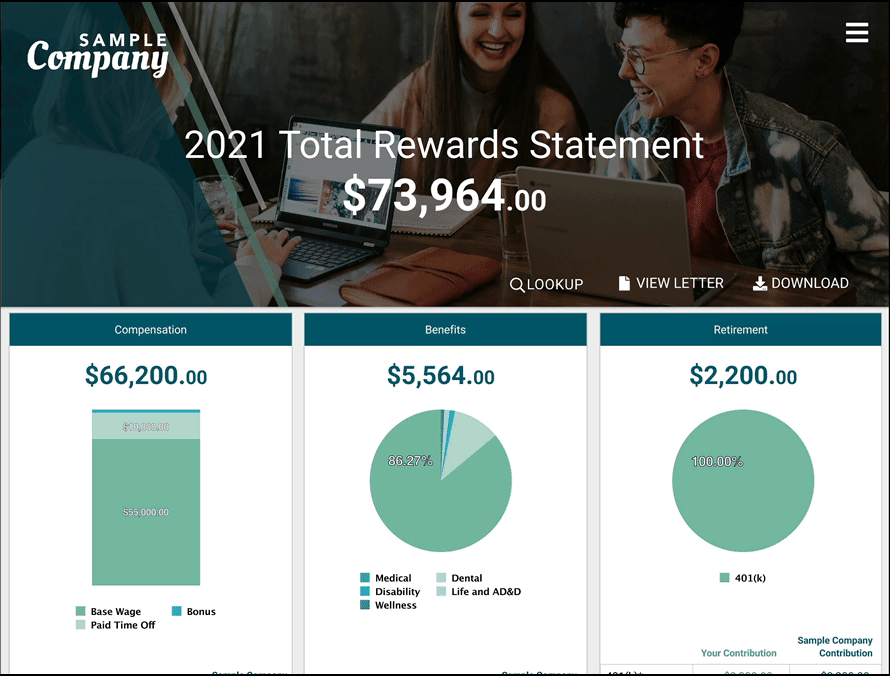 Retention
Compare values by showing employees their projected income. This is an awesome way to encourage employees to perform at a higher level. This works especially well for a sales-driven industry who thrive off of commission, sales, etc.
In this case, you can show what an employee or store is actually making versus what they could be making.